Our wines are produced from organic grapes grown in five acres of vineyard, in the countryside of Villasimius, in the hills of the piedmont belt of the plain of the rivers Rio Foxi and Rio Brennas. The vineyards are exposed to the northwest at about 200 meters above sea level, in a portion of land whose morphology is essentially wavy and therefore quite varied, with shallow and generally sandy soils of granite origin, which declined rapidly towards the sea. This constitutes the ideal substrate for the cultivations of Vermentino and Cannonau to express exceptional perfumes and body. The vegetation offers the scents of the Mediterranean maquis, broom, lavender, helichrysum, mastic and phillyrea, which grow wild in the shade of pear trees, carob and olive trees, windswept and sun-kissed.
Our wine is completely natural, produced exclusively from grapes from organic farming, lots of sun, wind and rainwater. The poles that support the rows are all made of cedar wood, and between one row and the other there are two and a half meters and one meter between vines. This space allows the plant to grow better, without feeling the competition of the nearby vine. The beginning of each row is marked by a clump of "David Austin", a variety of roses that the French use as a biomarker : they get sick before the vines, thus giving us the time to recognize which row is to be treated, although it is really rare to happen in our vineyard, because the weather conditions are favorable.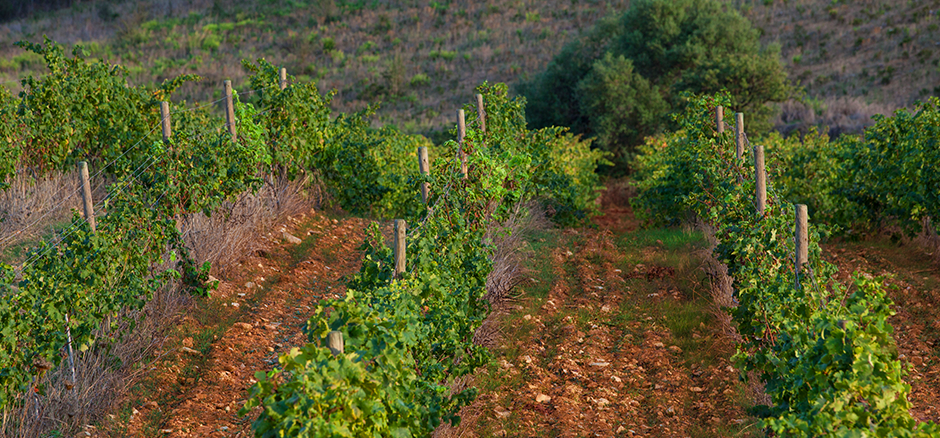 The hills, in fact ,enjoy a Mediterranean climate with hot and potentially dry summers, cold winters with sporadic rainfall. The proximity of the sea ensures frequent and iodine-rich ventilation, which gives our wines an intense, savory flavor and a balanced, velvety and full-bodied taste. On hot summer days, from our winery Colline del Vento, you can contemplate the emerald green sea and see the Isola dei Cavoli.